Tillamook Branch of AAUW continues to grow through TBCC Tree Program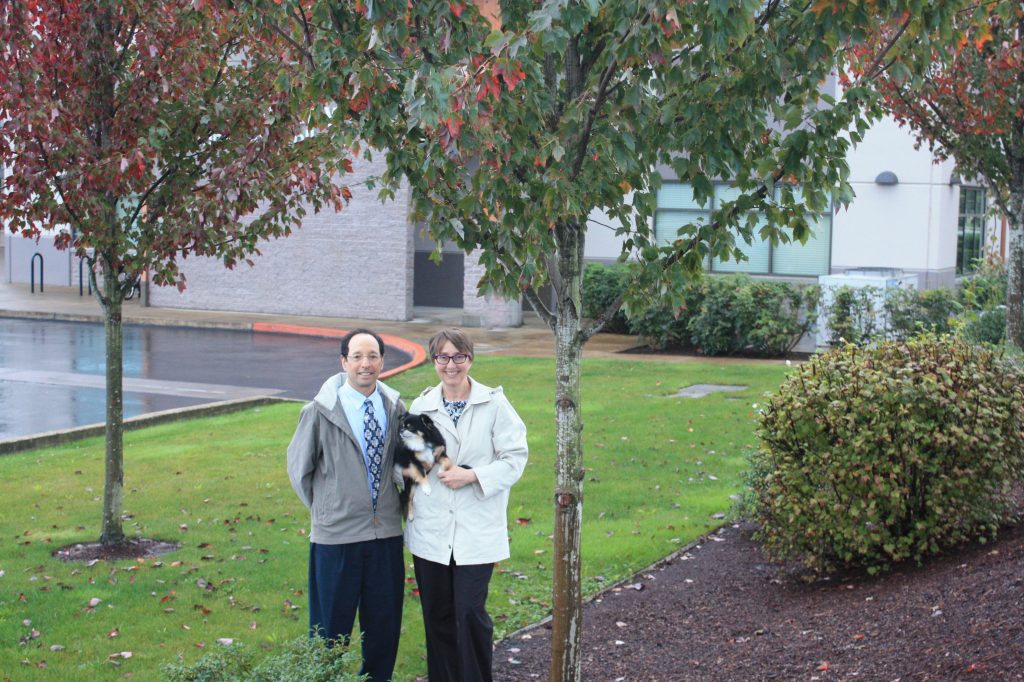 Dr. Eric Halperin and Dr. Beatrice Michel of Tillamook Vision Center stand with their tree that they dedicated this year in support of the AAUW endowed scholarship at Tillamook Bay Community College Foundation.
For six years in a row the Tillamook branch of AAUW has been actively selling trees on the main campus of Tillamook Bay Community College as a way to raise funds and awareness of their endowed scholarship fund at TBCC.
Last week, members and supporters of AAUW met for a luncheon and reception to honor the donors who have dedicated an AAUW tree and memorial brick. Each tree is dedicated for $1,000 and the money goes directly to the scholarship fund.
"It's is so rewarding to help families select a tree and recognize a loved one or honor someone important in their lives," noted Heidi Luquette, Development Director for the TBCC Foundation, which manages the fund on behalf of the AAUW. "Four trees were dedicated in the past 18 months, helping to bring the AAUW endowment to more than $46,000."
The new donors included Al Duncan, who bought a tree in memory of his wife, Sherry Duncan; Tillamook Vision Center; The Tillamook High School Class of 1964 alumni; and friends and family of Alice Voges. The dedicated trees surround TBCC's main campus on Third Street and engraved memorial bricks are placed in the AAUW Reflection Garden on the west side of the campus. A legend in the Reflection Garden directs people to each dedicated tree.
"These trees are a beautiful reminder all year long of how we as a community can work together to impact the lives of students," Luquette said. At the luncheon, a note was shared from Dr. Eric Halperin and Dr. Beatrice Michel who could not be in attendance, "There is hardly a more worthy purpose in our society than education, and to be able to support AAUW and TBCC gives us the opportunity to help others reach their highest potential."
The AAUW Endowed Scholarship Fund has grown by more than $21,800 through the tree dedication project over the past six years, and will provide a $2,000 scholarship to a young woman from Tillamook County to attend TBCC next fall.
For more information about dedicating a tree at the TBCC Campus, contact the AAUW fundraising committee through Marilyn Reynolds at 503-842-8667.