TBCC does Workforce Training!
By Dr. Ross Tomlin, TBCC President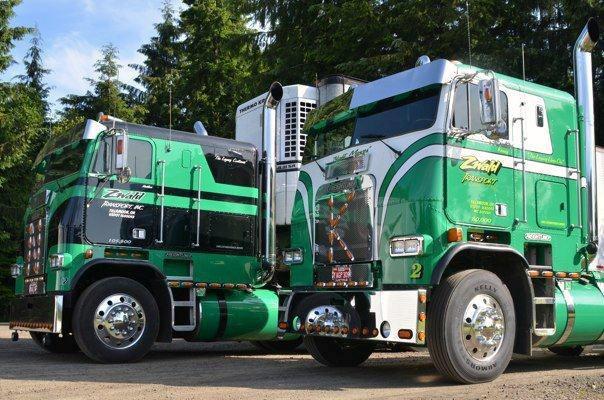 Photo courtesy of Zwald Transport, Inc. https://zwaldtransport.com/
Most people think a community college is all about preparing students to transfer to a university and maybe do some career-technical training as well.  Both are true, but that is only two parts of our three-pronged mission at Tillamook Bay Community College (TBCC).  Another important aspect of serving the communities in Tillamook County is to provide workforce training opportunities to company employees as well as training potential employees for high need positions in our area.  TBCC wants to do more of this over the upcoming year as we talk to companies about their need for skilled workers. We are actually in the process of hiring a Customized Training/Small Business Management Coordinator that will work with companies throughout the county to identify training needs that the college can provide, as well as identify areas where more skilled workers are needed. Then the college can develop training programs for existing employees or prospective employees.
Most of these programs will be non-credit, providing a non-credit training certificate upon successful completion. The first one in the pipeline now at TBCC is Truck Driving.  Starting in September, the college will offer a 4-week training (160 hours) that will prepare students to take the Commercial Driver's License (CDL) test.  This is a result of having several trucking companies contact TBCC and express a strong need for CDL Drivers. The college responded by forming an advisory committee made up of representatives from those trucking companies. This group looked at the need in the community for people with a CDL and the sustainability of providing this training each year. It was determined that the need was great.  The companies then came forward to donate equipment to help get the program started.  The Tillamook Creamery donated a trailer and M&M Trucking donated a tractor. A place was secured at the Port of Tillamook to keep the equipment. The roads at the Port are perfect for students to practice driving the tractor during the training. Next, curriculum was developed with assistance of the Oregon Trucking Association and other colleges that have a truck driving program, and an experienced instructor was hired.  All the pieces are now in place to begin offering the training in September.  This all took around six months to put together. So, the college can not only be responsive, but do so in a short period of time.
In addition, the college is looking into the purchase of a Truck Driving Simulator that could provide additional training opportunities for existing drivers at companies all over the Pacific Northwest. A simulator can be used to update driving skills and practice emergency response to conditions that cannot be replicated on the road in a real truck.
The Truck Driver Training program is a great example of the type of workforce training opportunities that the college can develop for companies and industries in our county to help them improve the skills of existing workers or prepare new workers with needed skills. We are proud to provide these opportunities as part of our mission and hope to see this part of the college grow over the next few years.