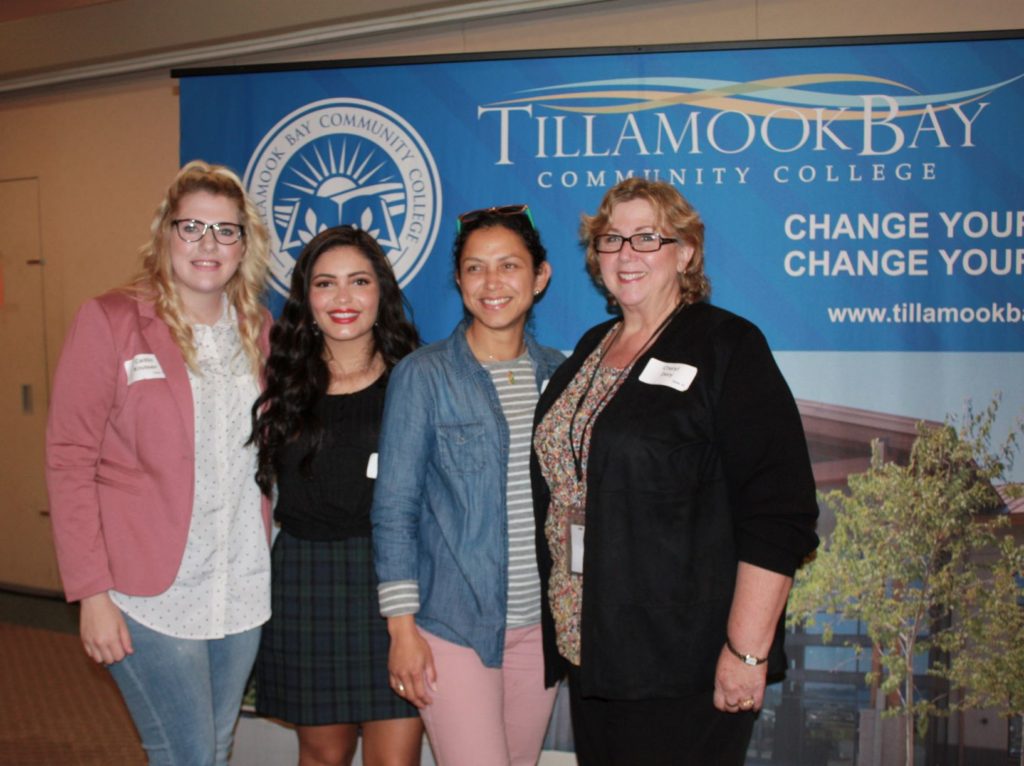 The TBCC Foundation is a nonprofit committed to helping students gain a college education by awarding scholarships and building the capacity of Tillamook Bay Community College to provide vital educational opportunities for our community.
TBCC Student Scholarship Recipient
"When people have a chance at a college education, they have a whole world of opportunity ahead of them."
Who We Are
What We Do
Ways To Give
FAQs
Who We Are
The TBCC Foundation awards tens of thousands of dollars of scholarships every year to students who may not otherwise be able to access an education.
Our Mission
To increase awareness and the level of financial resources available to Tillamook Bay Community College to provide quality education and bridges of opportunity in serving students and the diverse educational needs of the college and community.
Our Values
We value our donors and prospective donors and their confidence that philanthropy is a transformative power and their assurance that their contributions are essential in our student's success and the academic excellence of Tillamook Bay Community College.
Contact Us
TBCC Foundation Staff
Britta Lawrence, Executive Director
(503) 842-8222 ext. 1026
brittalawrence@tillamookbaycc.edu
What We Do
Ways To Give
FAQs
Dr. Paul Betlinski
Chuck Bridge
Tim Dolan
Andrea Goss
Pat Papineau
Tamra Perman
Marilyn Phegley
Marilyn Roossinck
Kathy Shaw
Chris Weber
Michael Weissenfluh
 Pamela Zweifel
It is our pleasure to thank the many individuals who support the Tillamook Bay Community College Foundation to serve the students of Tillamook County. We recognize this support in many ways, one of which is through our giving societies. These societies launched in 2021 and reflect donations to the Foundation through December 2020. Giving societies are calculated from gifts of cash, marketable securities, and gifts designated through an estate plan or will. Each society reflects a different level of giving. It is through commitments from you that we will continue to make a difference in the lives of family, friends, and neighbors in Tillamook County.
Legacy Society
Donors who have contributed $25,000 in their lifetime or have included the TBCC Foundation in their Estate Plan.
Executive Circle
$5,000 – $25,000
At least once within a three-year period.
President's Circle
$250 – $5,000
Renewed annually
2020 Legacy Society Members
American Association of University Women
Dr. Paul Betlinski
JM Brown
CHS Foundation
Columbia Pacific EDD
Helen Gienger
Connie and Randy Green
Dale Harmer
James F. & Marion Miller Foundation
Ruth and Kathy Jensen
Juan Young Trust
Loren E Parks Trust
Meyer Memorial Trust
Elnora Monroe
Near Space Corporation
Oregon Community Foundation
Denny Pastega
Pelican Brewing Company
Bob and Alicia Reed
Reser Family Foundation
Janet Riedel
Robert J and Leona DeArmond Foundation
Robert Riggert Family Foundation
Spirit Mountain Community Fund
The Ford Family Foundation
Tillamook County Creamery Association
Chris and Patsy Weber
2020 Executive Circle Members
Richard Chelone
Margaret Ogle
Olive Bridge Fund
Samuel S Johnson Foundation
Stimson Lumber
The Stimson-Miller Foundation
Tillamook Coast Visitors Association
Tillamook Masonic Lodge No. 57 AF & AM
TLC, a division of Fibre Federal Credit Union
2020 Presidents Circle Members
Associated Students of Tillamook Bay Community College
Chuck Bridge
Brittell Architecture Inc.
Diana Chadwick
City Sanitary Service
Tim Dolan
Lorena Dye
Greg's Marine Service
Nathalie Heger
Dr. Cyrus Javadi
Janice Kelley
Kiwanis Club of Tillamook
Les Schwab Tire Center
Sue and John Luce
Heidi and John Luquette
Kimberly McFadden
Van and Joyce Moe
Nehalem Volunteer Firefighters Association
Wally and Diane Nelson
Netarts Community Club
Oceanside Community Club
Pat Papineau
Tamra Perman
Marilyn Phegley
Walt and Marilyn Rigterink
Teresa Rivenes
John Sandusky
Schooner Restaurant and Lounge
Diana Sears
Kathy Shaw
Gary and Teresa Smith
Darryl Spitzer
Tillamook People's Utility District
Ivy and Ronald Timpe
Ross Tomlin
Jerry and Sally Underwood
Kyra Williams
Walter Yungen