Strategic Planning Message
Dear Students, TBCC Faculty and Staff, and Community Members:
Tillamook Bay Community College (TBCC) just completed a very successful accreditation visit in October 2021. This was our first reaccreditation visit since obtaining our initial independent accreditation back in 2013. TBCC will be formally reaccredited for another seven years by the Northwest Commission for Colleges and Universities at their January 2022 meeting.
Having completed a very successful first accreditation cycle means we have also completed our first strategic plan which has served us very well over the past seven years.  We are now ready to look ahead and develop a new strategic plan to carry us forward for the next seven years. TBCC was given a commendation for our planning process in the recent accreditation visit. We will now build on the success of our current plan to develop a new strategic plan for the college. This will involve developing a new vision and mission statement for TBCC to carry us forward, along with new strategic priorities and metrics to measure our progress.
To help us with this important process, we have contracted with The Corragio Group who have extensive experience working with colleges and universities to develop strategic plans. They will be working with our newly formed Strategic Planning Team to collect feedback from students, faculty and staff, and community members over the winter and spring 2022. We want to hear as many voices as possible to ensure we are taking the college in the best direction possible over the next seven years. This will involve focus groups, online surveys, and individual interviews.
Higher education is evolving at a fast pace, especially with the challenges we face from the pandemic. This is an excellent time for TBCC to look toward the future. We are planning to construct a new Healthcare Education and Training Center in the near future, along with starting a new nursing program and renovating our newly purchased Center for Industrial Technology. We will also be developing new career-technical programs to serve Tillamook County with opportunities to get training for high paying careers. The College also just received a $2.25M Title III grant that will allow us to develop a new career center as well as achieve other goals we have set.
A strong and effective strategic plan will help us to continue to serve our students and communities with the highest quality educational opportunities and will provide the blueprint that will help us achieve our identified goals. It is also important for us to connect our budget development process with the strategic plan, so we ensure that we are using our resources to accomplish the prioritized goals that best help our students succeed. So, this strategic plan development process is extremely important to all of us at the college. We do hope you will participate by providing your feedback.
We will keep everyone informed on the progress being made through our Strategic Planning Page on our website, which will be kept up to date as more information is obtained. If you have any questions about this process, please contact our Director of Institutional Effectiveness, Erin McCarley at erinmccarley@tillamookbaycc.edu. 
Signed,
Ross Tomlin, Ed.D.
President
Strategic Planning Team Members
Tom Atchison – Business Administration Faculty
Holly Kraus – Support Specialist in Instruction
Heidi Luquette – Executive Director of Advancement/Foundation
Erin McCarley – Director of Institutional Effectiveness
Kellie McKeehan – Student Engagement Facilitator
Sara Mustonen – Student Success Coach
Teresa Rivenes – Vice President of Instruction
Jude Scholtzhauer – Welding Instructor 
Strategic Planning Model 2017-2021
In 2017, TBCC improved its planning processes by developing a set of objectives under each core theme, along with concrete measures that help determine if we are achieving the core themes and objectives. We developed the strategic planning model to include continuous improvement both at the institutional level and at the department level and 'closing the loop.' Performance on core theme metrics is used to determine college-wide goals. We are creating a culture of improvement within the College that strives to fulfill the mission and vision of TBCC.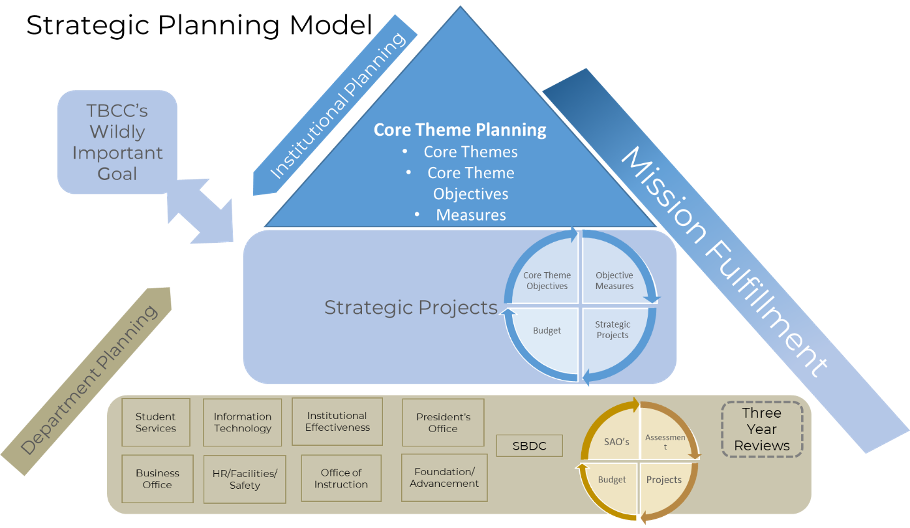 Erin McCarley
Director of Institutional Effectiveness
503.842.8222 ext. 1035